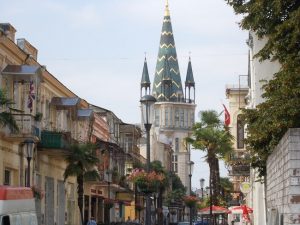 The modern, high-class southern capital of Adjara — Batumi — personifies all the charm of a southern city and a sea resort. With a backdrop of gorgeous hills, Georgia's seemingly most famed Summer city has an elite list of new hotels and attractions.
CHARM AND ELEGANCE.
Batumi developed in the late 19th century and has quickly rose to fame — now considered a fashionable resort at the southern tip of the Russian empire. It is also a hub of commerce. Visit Batumi Old Town, with its tempting dining, glitzy casinos and eclectic nightlife. Expect stylish surroundings, fashionable hotels, and astonishing cuisine. The best known local specialty is a peculiar kind of khachapuri — a cheese-filled pastry.
"People come because there's a lot of love, more and more love here. The sea adds a blue color to this city of white and gold. It's a city rising from a dream," stated Rezi Zoidze, Batumi Event Coordinator.
Top Places to Explore
Batumi Boulevard
Alphabetic Tower
Batumi Botanical Garden
Batumi Tower
Ethnographic Museum "Borjgalo"
Airport Information
There are two airports that are close to Batumi/Georgia.
* Batumi (BUS) Airport
* Kutaisi (KUT) Airport
*If you do not want to fly to Batumi, then we can pick you up from Tbilisi airport and drive you to Batumi.
It takes approximately 4-5 hour drive.
Nearby Hotels for Travel Convenience
Below are some hotels that we recommend you for Batumi/Georgia.
Metrocity Batumi Apartments & Residence
Adjara Boutique Hotel
Hotel Intourist Palace
Batumi World Palace
Divan Suites Batumi
Hilton Batumi